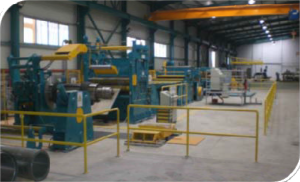 The line has the ability to levelling cold rolled, galvanized & pre-painted coils with maximum weight 16 Mton and ranging 0,4mm to 2,5mm. Minimum width of the coils is 400 mm and maximum 1550 mm. The maximum length of the levelled sheets is 4000mm and the minimum 400mm. The accuracy of the length is only ± 0,5mm and the diagonal accuracy is smaller than 1 mm/m!
The line has one 6 Hi leveler with 21 levelling rolls supported on 7 upper and 7 lower adjustable back up rolls. The result of the levelling is according to the latest EN 10131 (for cold rolls) & EN 10143 (for galvanized rolls).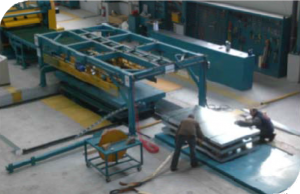 The packaging system of the leveled sheets consists of a double stacker, which allows the continuous function of the machine. The packaging system is completed with the automatic strapping device. All the above combined with the high speed of the machine (30 sheets per 2 m/min) give the ability to level and package a 10 Mton coil of 1,00 mm into 2,0 m sheets within 18 min!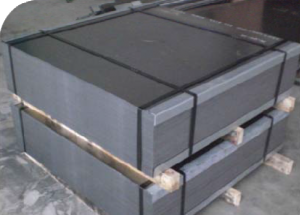 The packaging of the leveled sheets is made according to the EN and with primary goal the absolute protection of the product! All packages have protective corners to the four edges, special timber or pallets for their storage and of course a special certified hoop stacking.
There is also the ability to wrap the package with a special paper or nylon. All packages have a special tag with their features (weight, width, thickness, etc.)